Experience the Eagles
Two years in the making, GLOW is very excited to present "Experience the Eagles – Songs that Live Forever."  The 90 minute show, performed by the eight musicians and vocalists from the band, Glow, is a non-stop tour of the Eagles' top hits from late 60's through the 90's. It is presented in a "Las Vegas" style, complete with large stage and theatrical lighting. GLOW's crystal clear sound system captures every note and guitar lick. The music, vocals and amazing 4 to 6 voice harmonies are breathtaking, absolutely note-perfect reproductions of the quintessential "Eagles' Sound. "
GLOW's charismatic performers are fun, engaging, enthusiastic and they entice the audience to sing-a-long and dance.  This must-see production has sold-out every performance – public and private.
GLOW would love for you to come to a show!  Click "Tickets" at the top of this page.
Crank up the volume and listen to the short medley below.
Tim, Lina, Lisa & Robert practicing in Robert's home studio.
Jukebox Vocal Bands of the 60's
Glow is currently in production of their new show "Jukebox Vocal Bands of the 60's" which will be finished late August, 2018. The show will be two hours, with intermission. It will take you back through memory lane to the days when songs had melodies….we knew the words….and would sing-a-long. "Jukebox" will feature songs from artists such as The Mamas & Papas, The 5th Dimension,  The Beach Boys, The Hollies, Three Dog Night, The Byrds, Crosby Still & Nash, The Dixie Cups, The Shirelles, The Tokens and dozens more. This show focuses on vocal bands which are known for their amazing harmony. The GLOW singers and musicians will absolutely blow everyone away.
"Jukebox" will debut on August 31st in Roswell. Tickets on sale now.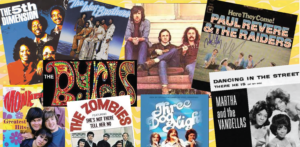 Here's a sneak preview of one song from the show …..